Many governments hope to use mining to boost post-COVID-19 growth and engage in the mineral-intensive 'green energy' transition. But they risk repeating the same mistakes at the root of many mining conflicts, according to a briefing by the International Institute for Environment and Development.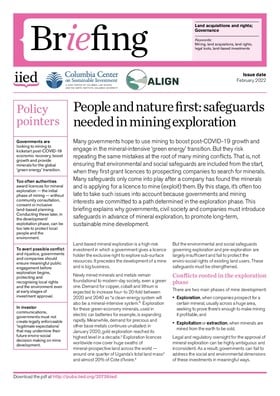 The briefing concludes that that environmental and social safeguards are not included from the start, when they first grant licences to prospecting companies to search for minerals. Many safeguards only come into play after a company has found the minerals and is applying for a licence to mine (exploit) them. At this stage, it is often too late to take such issues into account, because governments and mining interests are committed to a path determined in the exploration phase.
The paper explains why governments, civil society and companies must introduce safeguards in advance of mineral exploration, to promote long-term, sustainable mine development.
Read the full paper here.
Sign up
Stay up-to-date with the GoodElectronics Newsletter